Company News
Kaida Packaging: "Expert" for High-end Food Flexible Packaging
Time: 2018/5/10 11:49:23
View: 3830
Burst:
Recommended reason: Fujian Kaida Group Co., Ltd. is a domestic first-class large-scale plastic flexible packaging printing company, focusing on food packaging for more than 10 years, mainly engaged in flexible packaging printing, film manufacturing, packaging materials trading and other business operations. At present, the company has the world's advanced packaging technology and service concept, product types include three sides sealed bags, square bottom bags, anti-counterfeiting logo bags, high temperature cooking bags, anti-fog bags, etc., in addition to domestic Want Want, panpan, kiss, In addition to establishing long-term cooperative relationships with many well-known domestic food brands such as Sanquan and Si Nian, the company also established its overseas sales network covering Australia, the Americas, Europe, and Southeast Asia.
Highlights show: anti-fog bags
This is a new product newly developed by the company in recent years. Unlike ordinary plastic packaging bags, the anti-fog packaging bags can prevent cold and hot mist, and the transparency of the packaged products can be maintained at a wide range of internal and external temperature differences. The visual difference caused by the hot and cold fog, so that high-temperature cooking and low temperature freezing will not fog. This kind of functional packaging bag is suitable for the fogging of the packaging film and the inability to see contents, etc., caused by overheating of the contents under a refrigerated environment.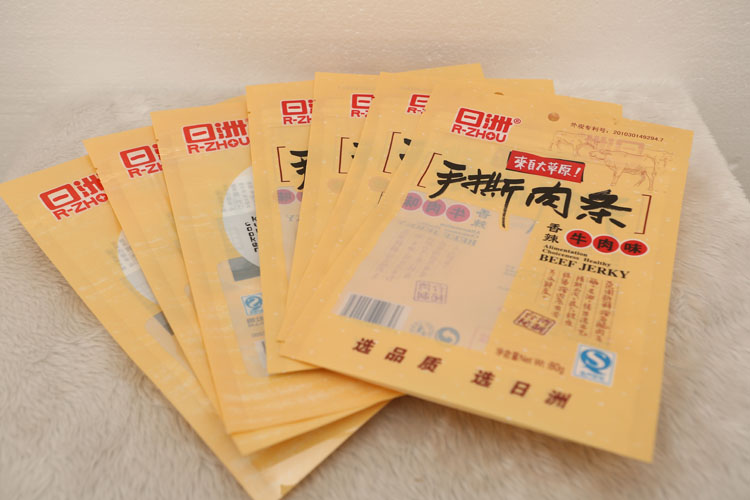 There are many food brands in Jinjiang, but there are not many large enterprises that focus on food packaging and printing. As a leading manufacturer of plastic flexible packaging in Fujian Province, Kaida Packaging has been determined to become a domestic food packaging expert from the very beginning. After more than ten years of innovation and development, the company now has 11 high-speed supporting automatic production lines and supporting cast raw material production lines, with leading international technology level, the products are exported to Southeast Asia, Europe, Australia and other countries.

The food packaging on the market is dazzling, and how to make your products come to the fore, independent innovation and stable quality is an eternal magic weapon.

"The food packaging has a particularly high safety requirement. The packaging bags we use are all environmentally friendly materials and do not contain harmful substances such as benzene and copper. The printing is also very good. The printed colors are particularly good." Kaida Company Relevant person in charge Zhang Lei said that the company's product quality requirements are improving, and all processes from raw materials to production are strictly controlled.

As an innovative enterprise, Kaida Packaging has its own R&D center and testing and testing center. It has passed BRC global standard certification and BV export product certification. The product has won many national high-tech awards and won a good reputation in the industry.

In recent years, Kaida Packaging has shifted its focus to mid- to high-end packaging, and has developed a variety of new packaging bags that meet market demands.

Al-Qaeda liquid self-supporting bag looks bright and beautiful, humanized design can provide consumers with more convenience, has a good impact resistance, pressure resistance and puncture resistance, has become a new product of fruit mixed drinks, jelly, yogurt and other products select. In all types of extruded foods, biscuits, baked products and chocolate packaging, it has good impact resistance, excellent barrier properties and low temperature heat sealability.

As people's aesthetics continue to improve, food packaging is also calling for more artistic expression. The company can produce beautifully shaped "special-shaped bags" according to the needs of the market. The shape of the bag is similar to the shape of the package.

"Anti-counterfeiting bags are also one of our superior products. The bags are particularly demanding on technology and will sense the materials inside the bags, which can effectively help food companies fight against fakes," said Jia Yaling, who is responsible for the company's marketing department. In addition, pet food packaging is also a category of new products that have grown rapidly in recent years.

On the basis of consolidating the domestic market, in recent years, Kaida Packaging has begun to vigorously expand its overseas markets and its foreign trade business has thrived. Last month, the Thai office was established.

"Thailand is a tourist destination and a food kingdom. Our rice packaging bags, seaweed snack packaging, grilled chicken bags and other products are very popular here. The future development space is still relatively large." Jia Yaling said.